November 14th, 2006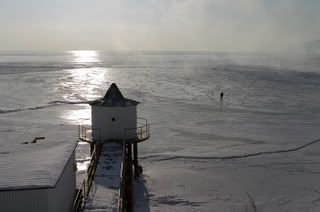 There are very few times that you can go somewhere and feel like you're absolutely alone on this planet. As the cold months approach more quickly I can't help but think back to the moment I stepped foot into the freezing plane that is Russia last January. Minus forty degrees centigrade is pretty impressive and surprisingly bearable. For two hours at most that is. It hardens you and makes you appreciate our warmer Wisconsin winters and even more so our ability to have reliable heat in our homes.
During our trans-siberian train journey, Rachel, Nat, and I found ourselves planted in a town called Litsvyanka – home to the world's deepest body of water Lake Baikal. In January, at minus forty degrees, Lake Baikal is frozen through to about three meters. Cold steam and powdered ice float across the frozen lake creating a very surreal landscape.
We decided to hike across the lake for the experience. No wind barriers and a large block of frozen ice below, it is probably the worlds largest open air freezer. Twenty minutes into our hike our hands and toes became numb and painful. To keep from becoming meat popsicles stuck to the lake we had to jog the length of the it to the nearest building – shelter – anything! Jogging was a necessity as the circulation to your feet and hands is not enough to keep them from frost bite despite having layers of clothing (i.e. everything we had in our travel bags).
One of the most interesting feelings while trying not to freeze to death was that of the bizzarre quiet the absence of humanity creates. We were the only three people crazy enough to be out at the lake at this time. Add the muffled sounds of our boots coming in through our bundled up heads and it feels like you're in some sort of dream land that doesn't really exist. Despite being labled as "crazy" and "insane" I would love to revisit during the bitter cold just to have that surreal intensity again.
A foreign land, a foreign landscape, and a foreign temperature. Of course the locals see it as normal, but we don't have anything like that in the U.S. to compare it to.
Entry Filed under: General,Photo,World Bound 2006